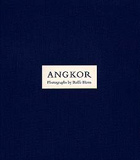 "Looking at these photographs places us in a position to gaze directly into the immortal condition of grand achievement. The images Rolfe Horn presents take one to another world, where the unfathomable has scale, and ancient statues come to life. The interplay of surface and depth directs our eyes over every inch of the images, leaving us to contemplate the existence of simple beauty. These images give us insight not only into the beauty of the medium and the subject matter, but also into that of existence . . . more specifically, ours."
-excerpt from the introduction by Garrison Beau Scott

Twelve original 5"x 5" sepia toned gelatin silver prints
Limited to an edition of 100 hand crafted, individually numbered and signed books.

Published by Nazraeli Press 2001

$2500.00, few copies remain.