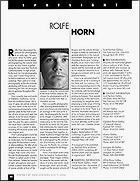 B&W Magazine, USA October 2002 Issue.

I was very pleased to learn that the editor, Henry Rasmussen, decided to use one of my images for the cover. "No Henry, I don't mind if the sides are cropped a bit to fit the cover!"

This was the first magazine article for me, and I was very happy to get the cover. Later I learned that the October 2002 issue was the first issue to sell out, horray for B&W!