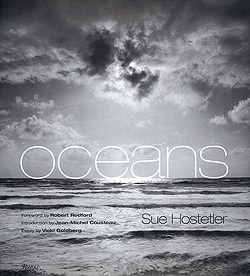 The ocean has been a rich subject for artists since time immemorial. To pay tribute to the ocean and to celebrate the artists that have captured its many extraordinary faces, photography editor Sue Hostetler has compiled work from eighty of the most prominent contemporary photographers. The book features contributions by Vicki Goldberg, renouned photography critic; Jean-Michel Cousteau and Robert Redford, who are lifelong enviromentalists; and a message from the National Resourses Defense Council which is dedicated to preserving the natural habitats the world over. From the haunting work of Shirin Neshat to the pop-techno vision of Mariko Mori, to the elegantly romantic work of Elliot Erwitt, Oceans is a unique and stunning volume. - from the dust jacket

I was honored to be included in this project. Aside from the book, Sue Hostetler organized an auction at Butterfields, where most of the works in the book were sold to raise funds for the National Resource Defence Council (NRDC). The auction raised needed funds for the NRDC.

This compilation of ocean scenes by a wide range of photographers is second to none, which is why I was very surprised to learn that my photograph of After the Storm, Arch Cape, Oregon 2000 was selected to grace the cover of the book. I am very honored for that. You can see this photo in the spring 2000 section of my archive.