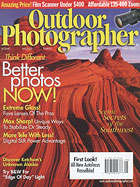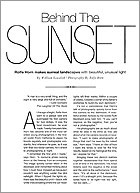 Outdoor Photographer, May 2003 Issue.
Interviewed by William Sawalich

I was very happy to have Outdoor Photographer print an article on my work. I spent several days corresponding via email with William during the interview process. The interview has been the longest printed so far and I still get a smile when I read it.

When I received the issue, I was amazed that the only black and white in the magazine was my work. It really stood out against the vibrant color photographs.

I have linked the thumbnails to larger copy so you may read the interview. I wish to thank again to William Sawalich and Outdoor Photographer for this article.